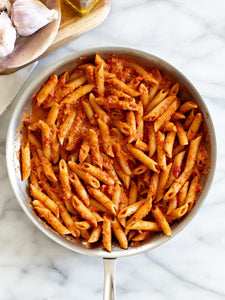 Sicilian Pesto Pasta may be the easiest and most delicious homemade pasta recipe in your arsenal. I know we are all familiar with classic...
---
The risotto with Parmigiano Reggiano cheese and Porcini mushroom spread is a delicious dish, with a truly unmistakable flavor: the refined taste of Porcino is combined with the enveloping delicacy of Parmigiano Reggiano. Risotto enhances...
---
Preparation for 8 servings :  With a beater, whip the eggs with sugar. Then put the flour, milk and yeast. Then with a spoon mix the nougat in the mixture and pour on the baking...